Περιγραφή
PLUG-2 dia 130 cm Vittorazi Moster 185 Plus/Silent MY19/MY20/MY21/MY22 reducer 2.68 6M6d60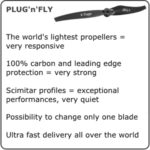 E-PROPS carbon propeller for paramotor, fixed pitch PLUG'n'FLY 2-blade model
Propeller designed for the engine : Vittorazi Moster 185 Plus/Silent MY19/MY20/MY21/MY22 reducer 1:2.68
Number of propeller blades : 2
Diameter : 130 cm
Drilling pattern : 6 M6 d60mm (6 screws dia 6 mm on a circle 60 mm diameter)
Central hole : diameter 25 mm
Total mass of the propeller = 500 g
SCIMITAR design : evolutive swept wing (stability and safety, noise reduction)
Configuration : propulsive
Rotation sense : Left (counterclockwise), seen in the wind made by the propeller
Model with extra-cooling
100% carbon braid : Helical Continuous Fibers
Leading edge protection with Nanostrength® shock additive
ASTM F2506-13 certified propellers
Each blade of the propeller has a unique serial number => possibility to change a single blade if necessary
Propeller delivered ready-to-install, without screws and bolts
The PLUG'n'FLY propellers are attached to the motor by screws (number and diameter of the screws according to the model) which tighten an aluminium counterplate (diameter 90 mm).
OPTIONS (at extra cost – click on the links) :
– Screws for mounting on the engine
– Clamping counterplates
– Protective covers for blades
– Blade leading edge protection tape
– E-Props color stickers
More technical information, click here => PLUG'n'FLY PROPELLERS
100% Carbon Hi-Tech Propellers – The Lightest in the World – Made in France – Sold in 80 Countries
The PLUG'n'FLY equip most of competitor pilots. Since 2009, the PPG World's Champion Alex MATEOS is flying with E-PROPS. All over the world, for beginners and professionals, the E-PROPS are by far the most efficient propellers !