Περιγραφή
The Super Sonic All Water has been introduced during the 11Cities in 2019 by rider Vlad Saveliev.
It is a very versatile board and keeps the speed in varies conditions.
The board gives performance on flat and choppy conditions.
The lowered deck provides a great stability also for the narrow boards in the range.
It is a power board which will get for sure at the stage .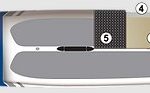 1) Ultra Light EPS CORE
2) Full Biaxial Carbon Fiber Wrapping
3) High Density PVC Deck Reinforcement
4) UD Carbon Rail Reinforcement Band
5) Ultra Light Carbon Layer
SPECS SUPERSONIC AW
SIZE: 14'0″ x 26″
VOLUME: 268/L
WIDTH: 26″ / 66cm
LENGTH: 14'0″ / 426.7cm
FITTINGS: US BOX / 9″ RACE FIN